A Greener TESOL France 2019 Colloquium in Lille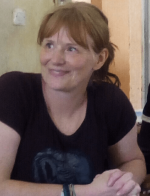 Many of us at TESOL France have been feeling a growing concern about our personal and professional environmental impact.  This conference was the opportunity for us to start taking action at an Association level.
Our step one was to appoint an ELT Footprint coordinator from within our Executive Committee.  It ensured a move towards informing ourselves and each sub group of the Colloquium Committee about possible green changes or decisions we could make. We have been very much inspired by the "ELT Footprint" blog and its sister FB page. 
This year's colloquium organisation was challenging anyway given our exciting venue change after more than 20 years at the Telecom building in Paris.  We took the steps we could this year, given our reduced planning timescale, and have highlighted steps we can take in the future.
Here is what we have done or intend to do:
INFORMING: we have added in a slot to our programme to introduce delegates to our greening plans, and how they can help and make suggestion (we will have a central notice board for this too).  Getting people on board and sharing ideas is important to us. Our website has a new page dedicated to greening the conference, and in the month leading up to the conference we will add delegate information posts about green options on our social media.
GETTING THERE: we have created a Facebook group (TESOL France Carpooling Group for 2019 Colloquium) linked to our main Facebook page so that people can connect with other delegates who need or can offer a lift from their area.  We have seen early on that it is the lift "givers" who need to be encouraged – it might not be intuitive to look to offer a seat, whereas asking for a seat comes from a need to sort transport.
One of our Committee Members who represented TESOL France at the IATEFL Poland Conference this year diarised her journey from France to Poland, using trains and buses and avoiding planes.  This can be easier said than done: often non-flight options are prohibitively long so don't fit in with our work commitments, or they cost much more to buy. Individual choice seems to be only part of an effective way forward.  You will be able to see her account in our next Teaching Times magazine.
DELEGATE  BADGES: as before we are using avery badges with plastic pin cases which we collect at the end and recycle for the next year.
"GOODIE BAGS":  we have decided to continue to offer a goodie bag, but the contents this time will help us at the conference to reduce our single-use cup and water bottle usage.  Delegates will receive a reusable drinks receptacle (we eliminated one of the cheaper option cups -bamboo plus plastic – because research suggests that there may be problems with these cups if used for hot drinks served above 70 degrees centigrade ie. coffee or tea).
SWAP TABLE: we saw this great idea in a previous blog on the ELT Footprint site, thank you for sharing!  In the run up to our colloquium we will advertise a swap table for books and small tech or resource items which other teaching colleagues might find useful.  What remains at the end of the conference will go to a local charity shop, or other local "ressourcerie".
CATERING: we are working with a local Lille caterer who knows we want to be as eco-responsible as we can, and we are looking to have finger foods to use as little crockery and cutlery as possible.  Our idea with crockery and cutlery (if needed) is that we will organise a volunteer dishwash team – "The Dream Dishwash Team" – because for at least some of the conference we will have access to a kitchen and sinks.  That's our goal anyway! However, we do have a stock of napkins and cups from previous conferences, so it would make sense to use these where possible, with a view to it being our last, hopefully, purchase
COLLOQUIUM PROGRAMME:  we are trying out using a basic online programme this year in an effort to transition to paperless.  For next year we are looking at an online Application which could replace our programme and incorporate sponsor advertising and other features.  Also, our print run will be smaller next year, and delegates will have the option of free online access or a paid hard copy.
This year our timescale is tight and we are only beginning to tackle the "green-ness" of our Colloquium.  But it is a start, we are learning, we are making mistakes and could do more, but sharing on forums like this is definitely the way forward.  We hope to see you in Lille, 29 November – 1 December. There will be the chance to give us your comments or suggestions on a board near the registration area.  Please do join in!