Lille, 2019.  Grasping the Environment Monster
As promised, here is an update of our pre-conference blog post.  It was the beginning of us grasping and starting to implement ideas about greening our event. We hope what we have learnt may help with your event too.
CARPOOLING: From the online carpooling page, we could see that there were a good deal more lift-seekers than offerers, although we don't have statistics about who drove to Lille.  It's perhaps not yet something we think of instinctively: to post an offer of a lift. We need to work out a way to better promote the advertising of lifts, and to do so more widely – it was only on our Facebook page and in a sub-page on the website.  Perhaps a rolling banner, or in our magazine?
GOODIE BAGS – The final composition of our goodie bag was as follows: a mug, an aluminium water bottle, pens, promotional leaflets, and the cloth bag itself.  There was a good deal of discussion about whether the bag should be filled in advance, to be handed over complete to the delegate, or whether it should be a help-yourself line.  To avoid registration congestion, it was decided that the bags would be filled in advance but that there would be boxes available to return unwanted items at our ELT Footprint stand.  This caused some last minute debate, but it is exactly discussions of this sort that we should be having. How would sponsors feel if their items were returned? What would we do with returns?  Would returns be reusable? Would returns be good data for sponsors as to what reached their potential customers best? What was our biggest priority?
Our returns procedure was therefore not as robust as it might have been, in terms of information and signage.  Our advice to organisers would be to have these discussions and procedures in place early. We have the opportunity to do this for our next event.  So what was returned? Quite a number of leaflets specific to a geographical area: these can be reused. A few other leaflets which were not of interest to delegates: also reusable.  A few water bottles and mugs, and pens, from people who said they already carried their own: funnily enough by the end of the conference, these items had found new owners and the box was empty (to be in the hands of someone who will use it is a step forward?)
Our mugs: these were used by delegates during the coffee breaks, but not exclusively.  Our stock of already-bought-for-previous-years paper cups were available, and this made it easier to not use the provided mug.  It was also pointed out in a helpful comment that, whilst the mugs were ideal for our organised coffee breaks, they couldn't be used in the coffee machines between-times.  Something to think about for next time. We also made black and fruit tea available. 
Our earlier purchase idea of the very common bamboo/plastic mix cups was decided against because of the issues of plastic contamination when these cups are heated to coffee temperature. https://www.foodpackagingforum.org/news/re-useable-bamboo-cups-tested-and-criticized
Our water bottles: a step up from plastic, it has been pointed out by several members that aluminium may also cause contamination. http://www.isustainableearth.com/green-products/are-aluminum-water-bottles-safe Stainless steel is expensive.  More decisions need making here. We would appreciate your joining in with the discussion.
Plastic wrapping: some of the pens and the water bottles were individually wrapped in plastic.  That is an issue we want to address in terms of our future purchasing stipulations before we select a supplier.  The plastic was removed in advance. Should we have left it on to make the issue more transparent? No pun intended 🙂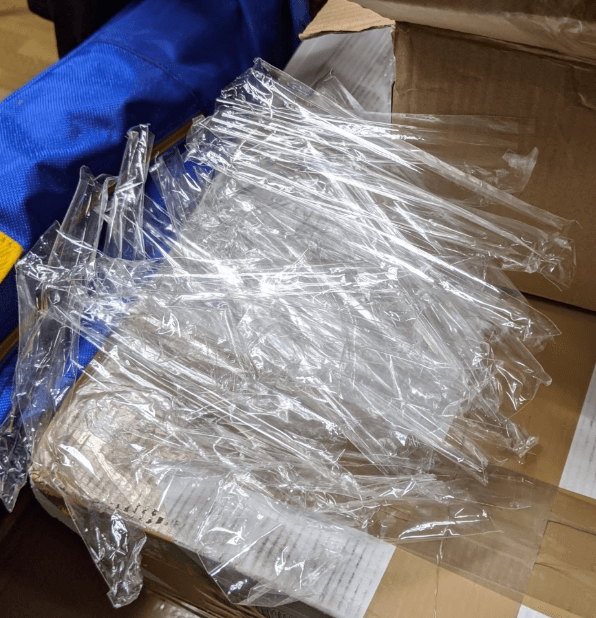 We could have had a clearer procedure for our exhibitors to sort their packaging waste (a cardboard section, a plastic bin…).  This would have saved time.
SWAP TABLE: what a success!  Much commented upon, and used by lots of delegates.  Other people offered to take items in the future, it was fairly late in the day that the idea of a swap table was realised.  We know for next year to promote this more, on multiple streams: social media, website, magazine etc. No resources or tech items were offered as swaps, it was all books, and some great ones at that.  Thank you to everyone who took in offerings, you made some delegates very happy! We also made it clear that there was no requirement to give before taking, it really was a help-yourself.
The Swap Table is something that we are also looking at extending to other TESOL France events, including those in the regions.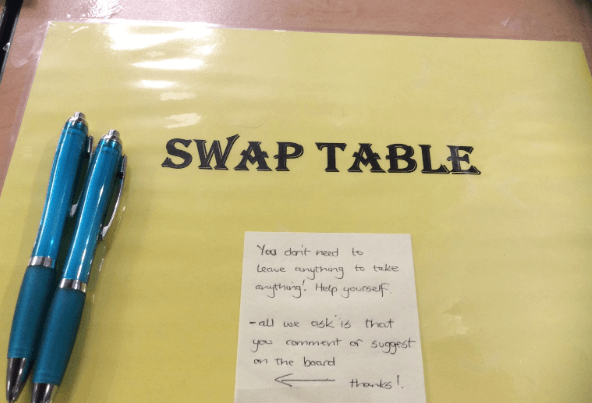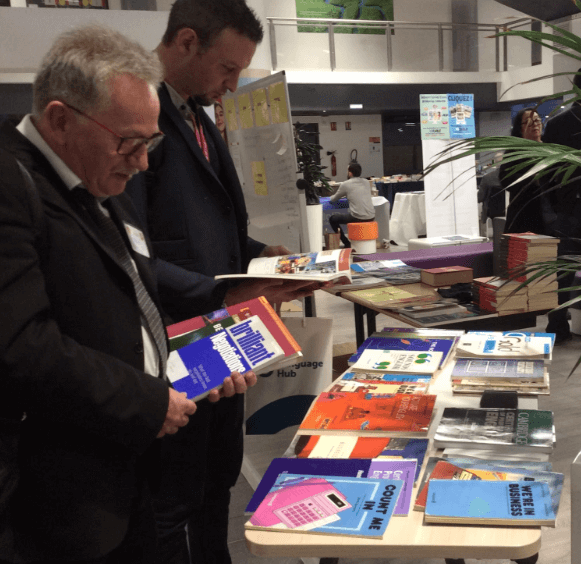 CATERING: We had a small standby washing-up team which we didn't call into action because we were using up paper napkins.  We have reusable trays to serve food (the ones from the caterer were not reusable, however), and only cold finger foods were ordered.  It was good to know that there were people ready and willing to help with washing if needed. 
Often, one of the biggest conference environmental impacts relates to catering.  Our team did really well in that there was no food waste at all.
THE ELT FOOTPRINT NOTICEBOARD: On it we had information about our progress and useful links, including to the ELT Footprint blog and Facebook page.  We had local public transport information. We had signage to the water fountain. We had a "returns" area. And, most effectively, we had an area for delegate comments.  These included:
having compostable literature if it needs to be printed, but a general consensus that printing should be minimised.

positive feedback about the swap table

a request for fewer pens

positive feedback about the mugs and water bottles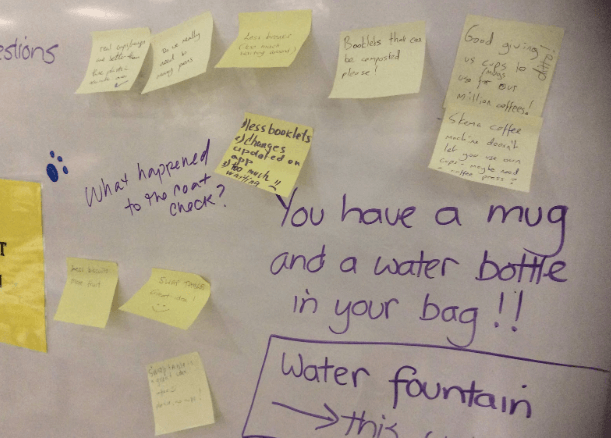 What else on the noticeboard do you think might have been useful?  
We are watching other event organisers' contributions to this discussion, and are grateful for this pooling of ideas.  Thank you!