A Hands-on Recycling Activity
Context: a language school in NW Spain and the secondary and older primary groups it provides classroom assistants for in the morning
Timing: This activity can run well beyond a 50-minute class because students may do research and presentation as a follow-up.  Alternatively, it can be a hands-on warmer to set the scene for a unit on the environment.
Preparation: It is easy to accumulate and then clean all kinds of rubbish that can be placed into a basket.  What may be too disgusting to handle, such as a used toothbrush or comb, can go into a (recycled) see-through plastic container sealed with sello tape.
For each object, there is a question written on pieces of scrap paper.  These questions are rolled up and attached with clips and clothes pins; sometimes they are written in felt-tip directly onto the container.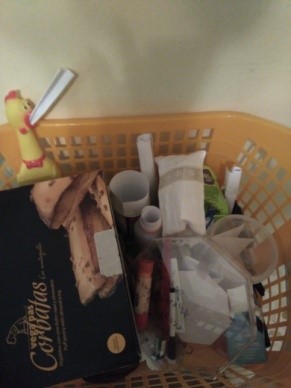 The questions are often open-ended, leading to a communicative context that is rich in modals.  For example, can we flush these wipes down the toilet?  Should we flush them? According to the indications on the packet, the wipes are flushable.  However, many water treatment plant experts argue that these wipes clog their systems.
Some questions have a more definite answer.  Soiled paper can't go into the paper recycling bin, especially if it has been in contact with food. It can ruin a batch of paper ready to be recycled. A used takeaway pizza box is disgusting to have on hand; however, it drives home this idea.  The pizza box is the one item in this quiz that I usually don't sanitise before I put it into the basket.   
This project can lead to web quests and contact with service providers in the local community. That is part of the challenge: thinking about how to chase up certain points. Moreover, recycling regulations vary from one municipality to the next.   And perhaps some questions aren't so straightforward.  What should we do with old plastic toys?  Can they have a second life? What will happen to them if we do put them into the general bin?
Here are some of the objects we looked at: sequins from clothes, craft foam, all kinds plastic containers, old kitchen- and glassware, Styrofoam (particularly troublesome for recyclers), empty glue sticks, old pens, toilet wipes, toothbrushes, magazines, bottle lids, combs, packaging that is a mixture of card and plastic and food boxes. The list can go on.  Where there is no definite answer, we can speculate or see what happens in other places.  Here, we are making hypotheses, doing research, debating and considering what to do when we reach a cul-de-sac with a line of research.
Our colleagues in the Centro Británico de Viana do Castelo in Portugal had their students upload video tourist guides in English.  Our students could do the same with the results of their research, letting others know about what they discovered about hard-to-recycle objects.   An on-line guide could encourage others to consider these questions. This is a good case of where the process – looking for the information- is more fulfilling than the product- finding a specific answer.  Indeed, many objects remain below the recycling radar and this dilemma is itself a cause for concern.