The UN Environment Programme report warns that unless global greenhouse gas emissions fall by 7.6 per cent each year between 2020 and 2030, the world will miss the opportunity to get on track towards the 1.5°C temperature goal of the Paris Agreement.  2020-2030 is a critical decade for climate action. As climate change-related disasters continue to devastate the planet, it is more and more important to educate children from a young age about environmental issues so they learn to care about the environment and feel empowered to take action, however small, that can make a difference.
The «Greta Thunberg effect»
 As a result, there has been a boom in picturebooks with an environmental theme which help children think about what contribution they can make to save the planet. This boom is referred to as the «Greta Thunberg effect».  She has become an inspirational role model for children who matches her words with actions.  Several recent picturebooks include her name in the title, or her photo on the front cover, e.g.  Greta and the Giants, Our House is on Fire, Go Green with Greta, Earth Heroes.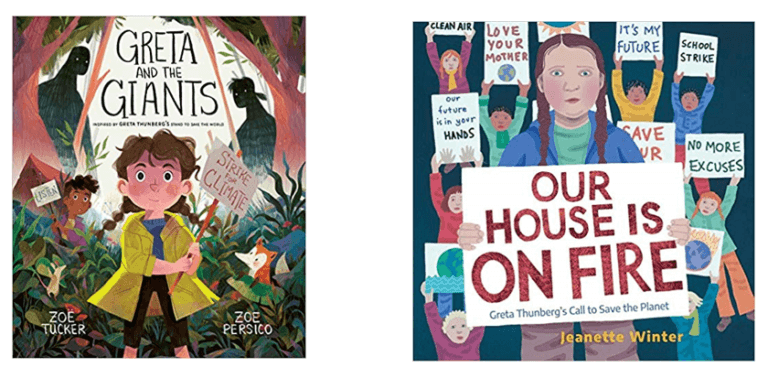 In addition, the Greenpeace film which went viral in November 2018, There's a Rang-Tan in My Bedroom, narrated by Emma Thompson, has inspired thousands of children to show their support and take action to urge brands to stop buying palm oil from rainforest destroyers. The film has now been produced as a picturebook by James Sellick and Frann Preston-Gannon.  Quentin Blake's latest picturebook, The Weed, also has an environmental theme which encourages children and adults to care for the environment and for each other.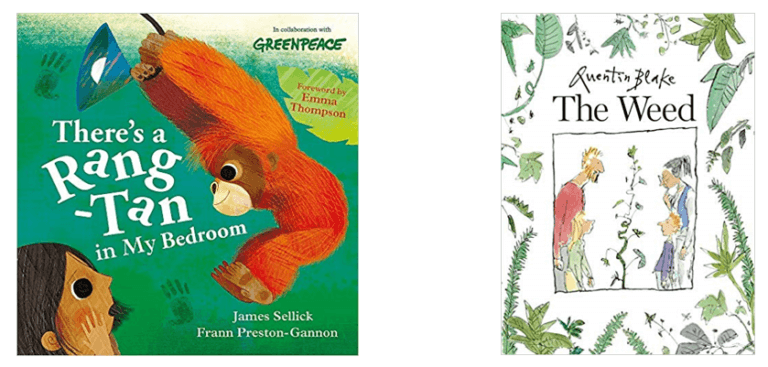 Environmental-themed picturebooks
 Environmental-themed picturebooks contain messages about recycling, environmental and wildlife conservation, plastic waste, climate change and global warming, reducing consumption, pollution and fossil fuels, using renewable energy, endangered wildlife and environmental ethics. They can be used to help children in the primary English language classroom learn environmental-related vocabulary as well as develop their knowledge, skills and motivation to make responsible decisions that consider their relationship to the natural world, to human life and to future generations.  They can be used as a springboard for encouraging children to develop the capacity for taking personal and collective action to protect the earth so they can make a difference to the future of our planet.  We need to channel any climate anxiety our primary-aged students may be experiencing into climate optimism and positive change.
PEPELT (Picturebooks in European Primary English Language Teaching)
PEPELT is a community of practice and online resource which supports and promotes teaching primary English by means of picturebooks. Each month we present a picturebook from four different perspectives:
picturebook peritext
multiliteracies
teacher education
notes from the PELT classroom.
The themes and picturebook choices we make reflect our aim to discuss picturebooks that challenge and which address current and topical issues – see our website for an overview of our themes and picturebooks since we set up PEPELT in October 2018.  Our book of the month for April 2019, to celebrate Earth Day, was What a Wonderful World, an illustrated version of the song made famous by Louis Armstrong in 1967.  The illustrations are by the talented Tim Hopgood.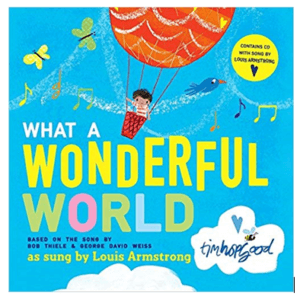 Some of the practical ideas and tips we suggested to accompany this picturebook included planning action to protect the earth and drawing up a green classroom action plan. Our theme for April 2020 is once again Earth Day and this year, instead of selecting one book for the month, the PEPELT team are each selecting an informational picturebook with an environmental theme, resulting in the presention of four different picturebooks throughout the month.
Informational picturebooks
 Informational picturebooks combine words and pictures to create an aesthetic literary experience and to impart knowledge, facts and ideas about the world in a truthful and reliable manner.  High quality informational picturebooks present information in a way that inspire children to think, question, feel, connect and wonder rather than simply accept an explanation.
Informational picturebooks appear in a variety of genres using different formats and media. They include topic books which address one specific theme such as dinosaurs or insects, concept books, number books, ABC books, biographies, activity books, picture dictionaries, pop-up books and wimmelbooks.  They present real-world information to extend existing knowledge.  They include a melange of visual media to support the words, such as artwork, photography, diagrams, maps, charts, and also include different formats and layouts such as text boxes, cut-away pages, flaps, author's notes, glossaries, indices and content pages. Many include diverse typographic features such as differences in typeface, font, size and directionality of text.  For example, text may be written vertically, in wavy lines or follow the contour of an illustration or diagram.
There are generally three main types of informational picturebooks that lend themselves well to the PELT classroom:
Nonfiction which uses an expository/descriptive and explanatory writing style to convey information, facts, figures. These picturebooks often form part of a topic-book series such as the Picture Puffin Fact Book Series. Literary devices are sometimes used, for example, alliteration (Wiggling Worms at Work) or onomatopoeia (Splish, Splash, Splosh!), a book about water.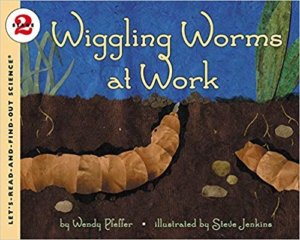 Fiction or verse – information is conveyed through a narrative, for example, The Great Kapok Tree or through verse such as Compost Stew.
A hybrid form combining elements from i) and ii) – children follow a narrative and factual information is presented separately as statements to differentiate from the narrative. For example, The Emperor's Egg, The World Came to My Place Today, 10 things I can do to help my world.
PEPELT picturebook choices for April 2020
Our picturebook choices for April are:
Planet Awesome! Stacy McAnulty, Illustrated by David Lichfield, Faber & Faber, 2018
In this story Earth is personified, «Hi, I'm Earth! But you can call me Planet Awesome». Earth tells the first 4.54 billion years of her story and chats away giving facts about:
planets
history of Earth
sun and moon
rotations of the Earth and moon
how the continents separated
how life began on Earth
humans
Earth finishes by making the point that humans do not always behave themselves and treat her well, but the final note is one of optimism for the future. The book ends with a section of 'more fun facts'. The book is superbly illustrated by David Litchfield.
We Planted a Tree, Diane Muldrow, Illustrated by Bob Staake, Dragonfly Books, 2010.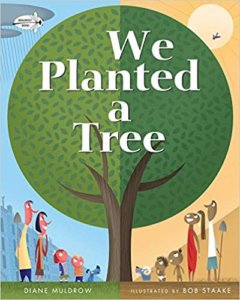 This is a story about two young families in different parts of the world, the USA and Kenya, who each plant a tree. The families are juxtaposed on the front cover and the colours depict the different settings. Seasons and years pass, and the trees and the families grow, and we learn how trees benefit the earth and people all over the world. The multicultural representations show different countries, people and species of trees including apple, lemon and orange trees, maple trees, oak trees and the umbrella thorn acacia typical of the African savanna. Bob Staake's cartoon-style illustrations are geometrically influenced and there is lots of repetition in the poetic text. The story shows that planting 'one tree' can make a difference. There is a quote from and a tribute to Dr Wangari Maathai, the first African woman to receive the Nobel Peace Prize in 2004 for Kenya's Green Belt Movement, «When we plant trees, we plant the seeds of peace and seeds of hope ». To get a peep of the book see the book trailer.
Migration: Incredible Animal Journeys, Mike Unwin, Illustrated by Jenni Desmond, Bloomsbury Children's Books, 2018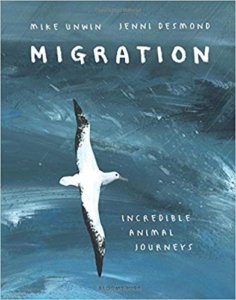 This picturebook takes us on a voyage of discovery around the globe with twenty of the world's most incredible creatures and their amazing migration stories:  the Arctic tern, barn swallow, bar-headed goose, ruby-throated hummingbird, osprey, wandering albatross, whooping crane, emperor penguin, African elephant, blue wildebeest, caribou, straw-coloured fruit bat, humpback whale, green turtle, Southern pilchard, salmon, great white shark, monarch butterfly, globe skimmer dragonfly, Christmas Island red crab. Each creature is afforded a double-page spread and the text matches the beauty of the pictures; it is told informatively but also poetically: Monarchs 'dance' in the air like 'confetti'.  At the back of the picturebook there is a migration map of the world with hints on conservation advice.
 Compost Stew – An A – Z Recipe for the Earth, Mary McKenna Siddal, Illustrated by Ashley Wolff, Dragonfly Books, 2010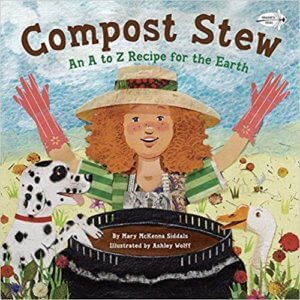 This picturebook told in rhyming verse, introduces children to the concept of composting in the form of an A to Z recipe for the Earth.  A is for Apple cores and can you guess what Z is for?  The endpapers show worms working away in the compost and the collage-style illustrations are stunning.  A diverse group of children, with the help of a friendly Dalmation dog and a goose, take us through this recipe for a compost stew.  There is also an author's note with factual information on how compost is nature's way of recycling.  You won't be able to resist starting your own compost bin at home, in the classroom or in the school garden to help the planet.  It is also an excellent story for acting out!
So if you teach primary aged children, why not use a picturebook with an environmental theme on 22 April to mark 50 years of Earth Day and to inspire children to become environmental advocates!  Check out the PEPELT videos on our facebook page on each of the above titles throughout the month of April for ideas and suggestions on how to use the picturebooks.
Facebook: https://www.facebook.com/PEPELT21/
YouTube: https://bit.ly/2rkrS9x
Website: www.pepelt21.com
Picturebooks
10 things I can do to help my world, Melanie Walsh, Walker Books
Earth Heroes, Lily Dyu illustrated by Jackie Lay, Nosy Crow
Go Green with Greta, Eliza Brookfield, Independently Published
Greta and The Giants, Zoë Tucker illustrated by Zoe Persico, Frances Lincoln Children's Books
Our House is on Fire, Jeanette Winter, Beach Lane Books
Splish, Splash, Splosh! Mick Manning and Brita Granström, Franklin Watts
The Emperor's Egg, Martin Jenkins illustrated by Jane Chapman, Walker Books
The Great Kapok Tree – A Tale of the Amazon Rain Forest, Lynne Cherry, Voyager Books
The Weed, Quentin Blake, Tate Publishing
The World Came to My Place Today, Jo Readman illustrated by Ley Honor Roberts, Eden Project Books
There's a Rang-Tan in My Bedroom,  James Sellick illustrated by Frann Preston-Gannon, Wren & Rook
What a Wonderful World, Bob Thiele and George David illustrated by Tim Hopgood, OUP Oxford
Wiggling Worms at Work, Wendy Pfeffer illustrated by Steve Jenkins, Harper Collins
PEPELT is a nonprofit project and the PEPELT team consists of a voluntary group of four passionate educators, who have been using picturebooks in primary English language teaching for many years. Each member of the team is based in a different country in Europe, bringing varied experience and perspectives to the project.