ELT Footprint was created on May 24, 2019, which means we are one year old today! 
Whether you joined us on day one or are discovering us for the first time today, you are part of this global community, which with your help has achieved so much in just 365 days…
We've welcomed almost 3,000 members to our Facebook group 
We've published over 2,500 posts on the group , contributed with more than 10,000 comments, and responded with more than 44,000 reactions.
We've raised awareness through plenaries, workshops and interviews at f2f ELT events (e.g. IH AMT London, IH BCN, TESOL Spain),  and online (British Council World Teacher's Day Online Conference)
We've published articles ( Modern English Teacher 2019, upcoming in the IATEFL YLT SIG newsletter, and the IATEFL GISIG e-zine)
We've taken part in podcasts (TEFL Commute, TEFL Training Institute) 
We've supported conference organisers in their endeavours to be as green as possible (JALT, TESOL France, IH YLs Belfast, ELT Freelancers, FECEI) 
Further reports have come in from teaching associations and publishers about on-going and new campaigns (IATEFL, OUP, TESOL-SPAIN, FECEI) 
We've shared literally thousands of ideas for lessons and lesson material
We've received a community award for our contribution to ELT (thanks to FECEI)
We've been shortlisted for an ELTons Innovation Award in 2020 for Innovation in Teacher Resources.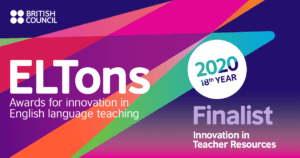 And so much more that it's difficult to list here; projects and initiatives from all over the world being carried out and supported by our members, in their classrooms, schools, and organisations. In short, and rather less scientifically, we have a very real sense that this year has seen a growing and deeply-rooted awareness of the environmental impact of our work. Perhaps even more important is the embedding of an understanding of the role and opportunities to manage the climate crisis we have as a globalised educational community working with huge numbers of young people.
Here's to another year of positive action as we spread awareness of the climate emergency throughout the ELT profession, highlighting the need to put environmental issues at the top of our agendas.
(Please click HERE to find out all about our special birthday celebrations!  We hope you'll join in!)