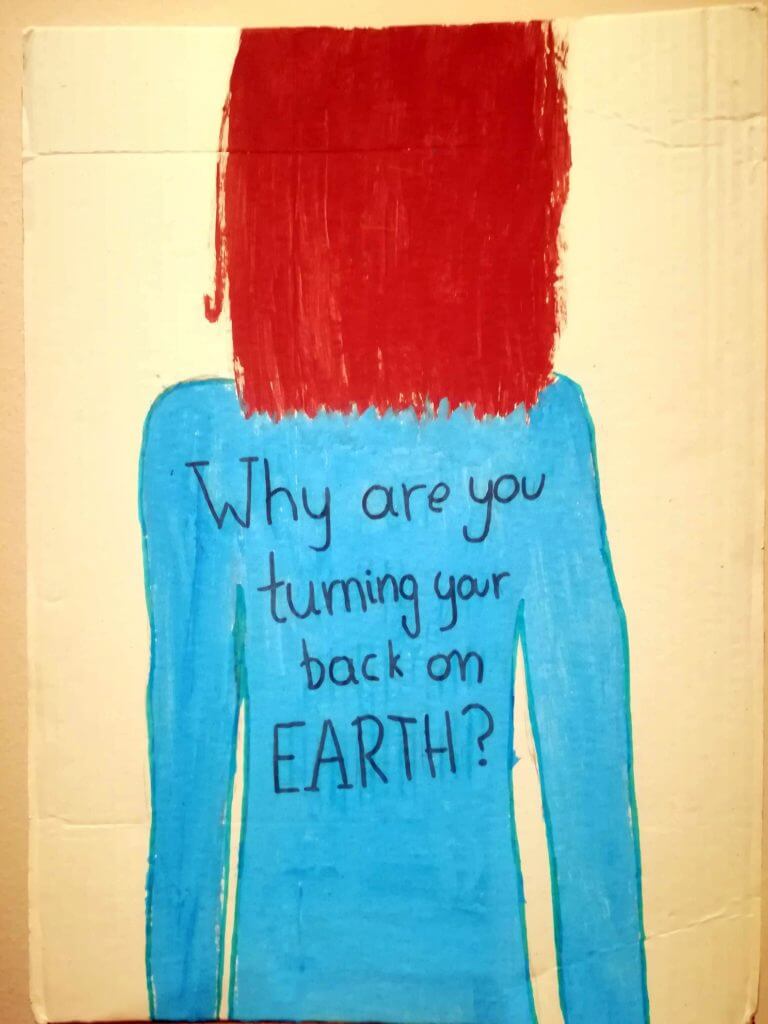 At the time of writing, our Facebook group has 2,114 members and the blog has  been visited by readers in more than 90 countries. Facebook stats tell me that we have had more than 4,000 posts and comments over the last 28 days. That's a lot of discussion! Meanwhile the ELT Footprint blog has developed into an ELT environmentalist's treasure trove. Categories include Teacher training, Lesson plans, Greening ELT and conferences. There are also convenient tabs linking directly to spaces with things like teaching materials, templates and useful links. We are continually discussing the best way to maximise the usefulness of the blog to make it as beneficial as possible to members. We've found it impossible to make fixed plans with such a dynamic subject as our planet so we'll continue to do as we've done until now, going with the flow, modifying and creating new spaces as needs arise. If there's anything you think we should be doing on the blog, don't be shy. This is your community! I thought I'd pay my birthday respects by choosing six examples that have made me proud and happy to be a member of the ELT Footprint Community. Some are single examples. Others are more on-going. Here they are in no particular order.
Sept 23 – 27 was 'Climate Week'. Lots of teachers around the world were doing great things to mark the event. One teacher, Gwyneth Sarah Simms, told us about a week of action in her school (CEIP San Miguel, Madrid). One remark that stuck with me was this, 'Minute silence this morning. Even the 3 year olds were quiet!!!It was amazing!' This thought has stuck with me for months and made me realize (again) the incredible position and responsibility that we have as teachers.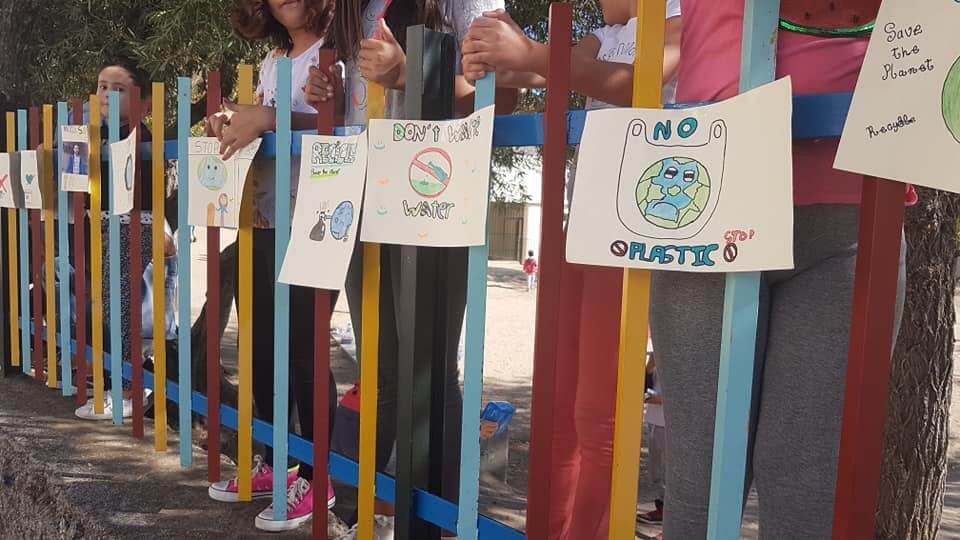 Now more than ever before we need to help our students develop the skills they need to evaluate information and decide what is true and what is fake. With the climate emergency we've seen a worrying rise in reports, articles and blog posts that are based on misinformation at best and often lies. Sometimes getting to the truth is time-consuming and full of obstacles but I've noticed a growing awareness of the need to question 'facts' among members of the ELT Footprint community. A typical sequence goes something like this:
Person 1 posts an article.
Person 2 questions the validity.
Persons 3, 4, 5 etc. research the topic to find and share evidence supporting or refuting the first article and perhaps sharing a new article.
Discussions ensue, publicly and in private.
We all learn a bit more.
I'm sure I'm not alone in now questioning almost every statistic I see and fact checking several sources before stating any environmental issue as a fact!
We all are or were English teachers. Sharing teaching resources with an environmental focus is one of the most useful things that we can do. Owain Llewellyn has been creating ELT materials through his website
https://eltsustainable.com
since 2011 and has been an active member of our group since we started, regularly sharing free materials on our Facebook page for members to access and use. Recently several members of this group, including me, enrolled on Owain's two-week online course, '
Language teaching for the planet: positive change starts in the class.
' The course is still in progress as I write but I am enthusiastic about its potential to bring together like-minded people to talk about how we can have a positive impact. It feels exciting. (The next course will start on January 22 2020)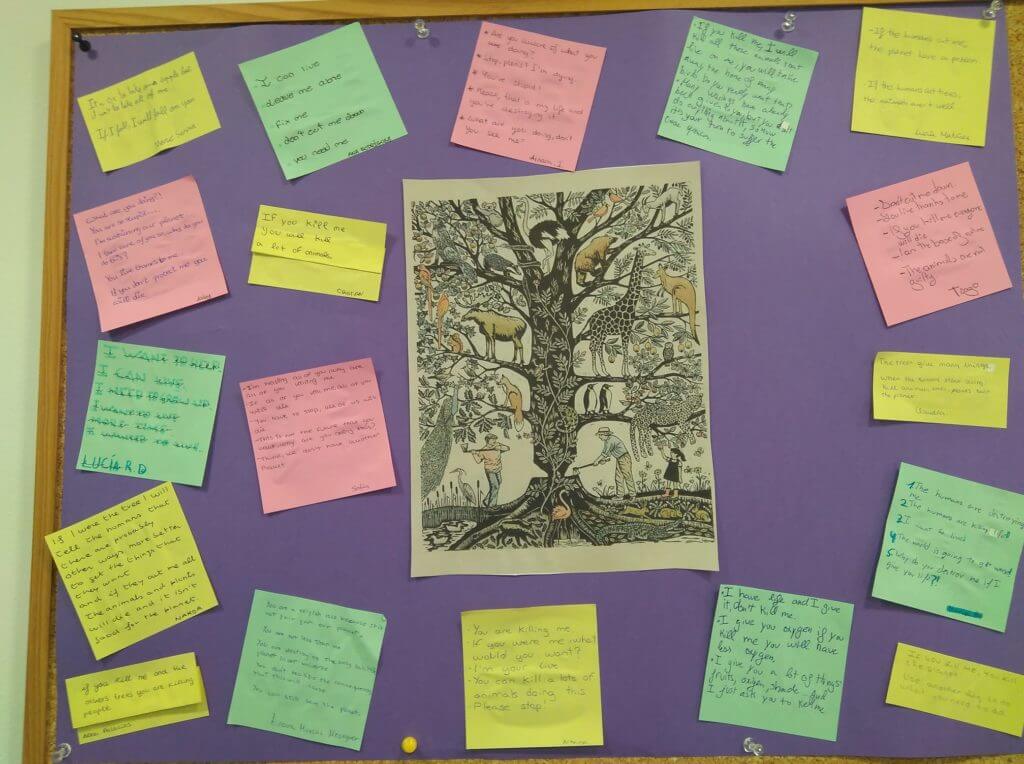 Sometimes when a member shares an interesting article or image to the Facebook page, other members share ideas about how it could be used in class, often with creative, exciting ideas. One recent example of this came when someone shared a powerful image of a tree being chopped down by two men who are oblivious to the animals about to lose their source of habitat, food and shade (and some ideas for using it in class). Ana Castro Alonso used the image as a springboard for a poster project and writing task. But I'm sure the outcomes of this lesson went beyond everything language-related.
One thing that is important to us in this community is that we aren't interested in publicly shaming but prefer to praise and share ideas for good practice and positive green actions. We get a lot of this on the Facebook page so it's difficult to just choose one example to highlight here. I've chosen this photo shared by Linda Yael because it is simple but, as with most simple ideas, effective. It shows 'Well organised bins in a school in San Martín de los Andes, Patagonia, Argentina', colour-coded recycling bins to make recycling easier for students and teachers.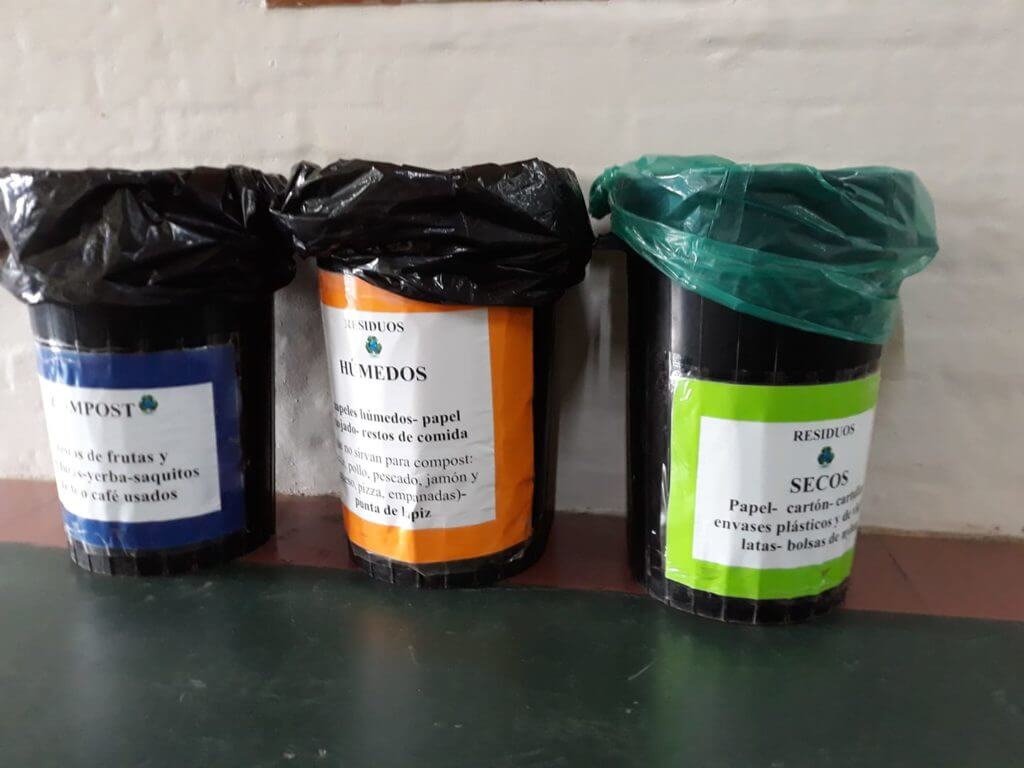 On Nov 21, when OUP decided to announce their Word of the Year for 2019, they decided to include ELT Footprint in their list of press release recipients. So while I was primarily pleased with the winning word, climate emergency, itself and by the fact that the ten other shortlisted words, all came from within the same theme, it was especially gratifying see ELT Footprint being perceived as a worthy beneficiary of such news.
Happy Birthday ELT Footprint! Here's to the next six months.