Anna Bellinger is an English teacher, artist and a founding member of ELT Footprint. She is also our first ever Artist in Residence. If you have downloaded the free mini-guide, The English Teacher's Climate Crisis Survival Kit, you'll have seen some of her work already. We used it to illustrate this e-book. 
Anna studied textile design and worked in textiles for seven years before moving to Jerez in southern Spain and retraining as an English teacher. After 13 years teaching to all ages she's now taking a step back from teaching to focus on creative pursuits. We asked her about her art, her interest in environmental issues and her hopes as ELT Footprint's Artist in Residence.
How would you describe your approach to art?
I always start with some crazy concept. I may have a tiny seed of an idea or a title for a project before really knowing where it will end up. From there it's also quite explorative – investigating different shoots or branches of the theme and experimenting with different treatments.
The idea might grow and develop into something significant or mutate into something quite unexpected.
There is almost without exception a 'point', something I want to 'say' or convey through the work. It may be that there is something I want to encourage the viewer to think about, to examine how they feel, or to consider their perspective without being too prescriptive, and sometimes with a hint of irony or a tongue in a cheek.
In terms of media, this year I am reacquainting myself with acrylic paints  and the paint brush as well as charcoal,  after having been working with photography and found objects for some time.  My background in textile design I think inadvertently informs the art that I make –  an attraction to pattern and playing with colour.
It's refreshing to hear an artist being honest about the 'point' of their work. Often they leave it very much open to interpretation. How important is it to you that you inform people of ideas, or even 'teach' through your work?
To be honest, I think it's quite important that room is left for individual interpretation, whatever the intention of the piece. For me, as I've said, art should be about making the viewer feel, think, reflect or examine. In my case I often use titles, which may nudge people gently in the right direction (possibly not always gently!) but hopefully not spoon-feed them a fully-formed 'point'! In fact in terms of 'teaching' I believe learning to really see, not just look, to make up one's own mind, uncover and explore one's own opinions is crucial in this age of information saturation and fake news, particularly with a younger audience. In our part of the world the school system does not encourage young people to have their own voice and develop critical thinking skills. I think looking at (and making) art can be a good 'in' to this area of vital personal development in young people today, particularly where that art is tackling important issues.
'Art should comfort the disturbed and disturb the comfortable'
Banksy
What are you currently working on, and why?
My current project is a study of trees – specifically the pino piñonero (Spanish name), or Stone Pine. I have been fascinated and charmed by them for years and now that they are my new neighbours they have naturally become the subject of creative exploration. I'm interested in drawing parallels with our human selves – the limb-like curves of trunks and branches, the cracks and wrinkles of the bark, reminiscent of aging, human skin and the life and energy that pulses through the inner workings of the tree.
Of course, our relationship with trees is a much examined one in terms of the vital part they play in keeping us and the planet alive. Sadly, our loss of connection with the natural world has been very damaging and so I seek to draw comparisons that will hopefully encourage people to acknowledge their importance, their strength, power and beauty. If we can see beauty in the bark of a tree perhaps we can appreciate them not just as a commodity or obstacle, but as friends and allies.
Where does your interest in and concern for the living planet come from?
I was lucky enough to grow up in a small village in the south east of England at a time when as children it was considered safe to run loose around the countryside. I was surrounded by orchards and hop farms, ponds and woods and I was also lucky that I had parents and grandparents who taught me to appreciate such things. Consequently, I have always felt happiest and most at peace in the natural environment. I'm definitely not an urban being!
I'm ashamed to say that really it has probably only been in the last 7 or 8 years that I have really become concerned in a serious way about environmental issues. In the process of working on a photographic project – Underfoot – I became very aware of the significant littering problem we have locally. Living near marshland and the coast for around 10 years now, I became more and more dismayed by the amount of general rubbish and plastic waste I would find in the streets and on the beaches.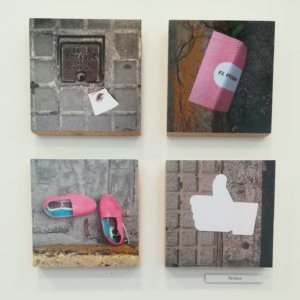 This then led to an awareness of all the myriad environmental problems we face and the shocking lack of respect we seem to have for the natural world. Connections I have made with various like-minded artists and organisations on Instagram provided some insight into the global scale of the problems as, of course, did the rising of a collective consciousness bringing the issues further into the public eye.
Your childhood was spent immersed in nature. How much is your art for children, or for the child in all of us? And a related question: do you see the developing role of ELT Footprint Artist as particularly focused on Young Learners? I'm thinking of practical lessons and project ideas around art being geared to the YL classroom?
I guess with projects like Anthropocene and Underfoot, by their nature they have appealed to  children or the 'child in all of us' , but they weren't created with children in mind. I often inject an element of humour and fun which I like to think will appeal to adults as much as children.
If we are talking about environmental issues there is a lot of work to do, not only with children but with older generations, too. Obviously fostering awareness and good practice in children is crucial, but we don't want them leaving it behind at the school gates! They need to be going home to families and communities where they see real world examples and applications of what they have learnt.
Of course, when we think of art as a tool in the classroom we immediately think younger learners as we associate them with innate creativity and play – and certainly, there are many applications for those students in terms of 'making'. Course books these days do a pretty good job with CLIL elements, working in creative projects around recycling and so on.
But I still believe art has its uses with older learners, perhaps in less obvious ways: using images and concepts to open up imaginations and dialogues; or examining perspectives and thinking critically about the issues, for example. I'm sure that ELT Footprinters have learners of all ages, stages and learning styles, so it will be interesting for the ELT Footprint Artist to consider that. I'm looking forward to sharing ideas with all of you – maybe we can collaborate and explore some together!
In what ways can art help a social movement such as the green movement?
'Art should comfort the disturbed and disturb the comfortable'- (credited most recently, but not exclusively to Banksy). I believe art in its various forms can reach and influence a wide audience. It can be used to present the beauty of our natural surroundings and thereby help to foster a crucial love and appreciation of it. Also, I think if you are disturbed, as I am, by what is going on in the world around the climate emergency, finding artists that are making work examining the same feelings can be some comfort in the sense of community and solidarity that that creates. Very much in the same way as amazing initiatives like ELT Footprint has done.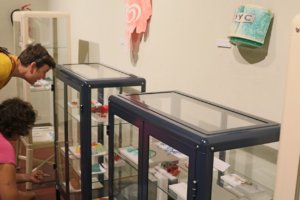 On the other hand it can be used to present ideas and perspectives that might force the viewer to examine their relationship with consumerism and the environment and the impact their habits or attitudes might have on it, thereby disturbing any comfortable complacency!  
For example, in the installation, Anthropocene, by presenting found objects in the form of exhibits in a Museum of the Future, I hoped to 'disturb' people into noticing the rubbish around them and acknowledging that our choices and behaviour now could make for an ugly human legacy!
Which other artists dealing with issues surrounding climate breakdown, loss of biodiversity, the problem of waste, consumerism, and so on do you admire? Who would you recommend for Footprinters? 
These two photographers I discovered on Instagram: Thirza Schaap is Dutch but works out of Cape Town, South Africa, and Mandy Barker is a British photographer. They both make work using ocean plastic debris and are involved in projects, research and initiatives in that field. Both their stories and their work are well worth a look.
http://www.designindaba.com/articles/creative-work/dutch-artist-thirza-schaap-reveals-delicate-beauty-can-be-found-garbage
Ricardo Nicolau de Almeida is a prolific artist, creating sculptures and images from plastic debris he finds on the beaches where he lives in Portugal (at least, I think it's Portugal!) Find him on Instagram @nicdealm
This little dude is a doing great stuff on Instagram and locally where he lives in UK (not sure where that is) doing beach cleans and creating artwork. Check him out. He could appeal to younger ones in the classroom. @minibeachcleaner
This is a great article introducing you to several internationally recognised artists in the Environmental Art Movement.
https://www.huffpost.com/entry/environmental-art_n_5585288
And if you want to go deeper still, here's something from the Tate J
https://www.tate.org.uk/art/art-terms/e/environmental-art
And where can ELT Footprinters find you when you aren't on Facebook, Anna?
Probably the best place is Instagram – I have 3 different handles I'm afraid!
@absowm – this one is the most environment-focused one.
@absowm_art – painting and photography.
@absowm_photo – photography (obviously)
I also have a website, which is very much one of my many 'works in progress' 😉