The Woodland Trust is launching the UK's largest mass tree planting campaign – urging the public to pick up their spades and take action on climate change. The Big Climate Fightback aims to get more than a million people to pledge to plant a tree on the run up to a mass day of planting across the UK on November 30.
Sadly, the campaign is necessary because the UK government is failing to meet its annual tree planting commitments by a long way. But Darren Moorcroft, Chief Executive at the Woodland Trust, is defiant and encourages people to get planting: "The Big Climate Fightback is about inspiring people of all ages and backgrounds and providing the chance to take direct action – simply go to our website and pledge to plant a tree, whether it's in your backyard, neighbourhood, school or at a nearby planting event. It's an easy way for people to do their individual bit for climate change as part of a mass movement."
Why plant trees? 
Trees are nature's way of protecting the living planet. They do so in a number of ways: by absorbing CO2 and producing oxygen; by filtering pollutants from the air; by providing natural habitats for wildlife; by providing shelter and shade from the elements; and by preventing flooding. TV celebrity Sandy Toksvig says: "Climate change is a real threat and it affects us all. But there is the simplest of all solutions. It's green and lovely – the humble tree. It eats CO2 for breakfast and makes all our lives better."
Here's a great webpage from the Woodland Trust's site about why trees are so important in the climate fightback: https://www.woodlandtrust.org.uk/blog/2017/12/why-do-we-need-trees/ To use in class, get students predicting all the benefits of trees before letting them read. Follow up with a project to plan tree planting in your local area – all you need is a map!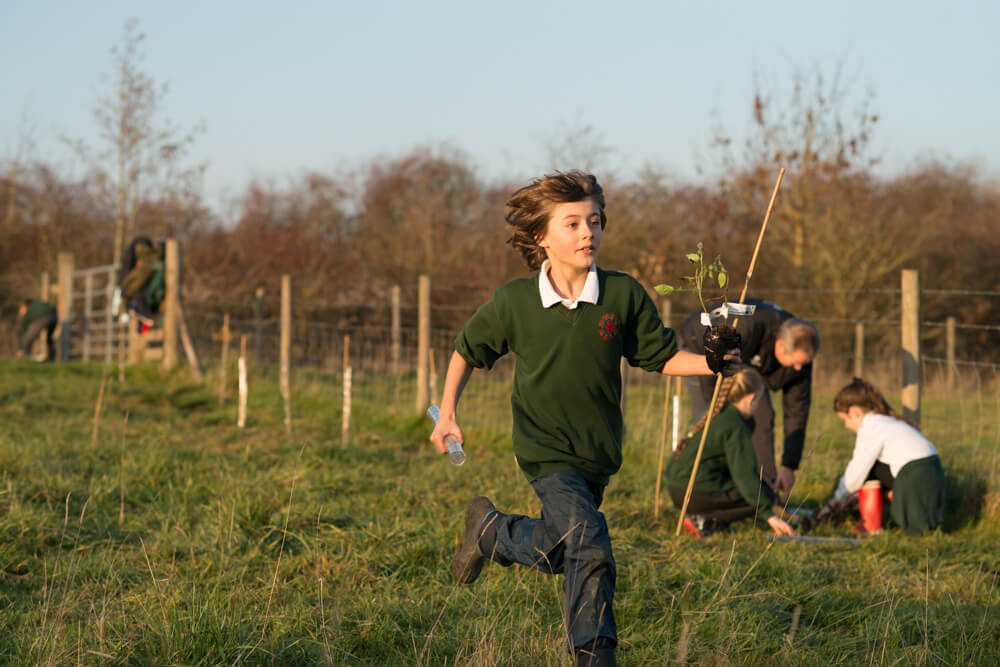 The Trust's website is a great source of information about planting trees: why, which, where, and how, and I highly recommend it for anyone thinking of taking up such a project. Bear in mind it's UK-based, though, and climate in other countries may mean different species of tree and possibly different methods, too. For example, in Spain, the trees best suited to the drier Mediterranean conditions include the oak, holm oak and cork oak;
a similar project
is currently running there with the goal of planting 25 million trees across the peninsular. 
We'd love to know about similar initiatives elsewhere in the world. 
For more information and to pledge to plant a tree visit:
www.woodlandtrust.org.uk/bigclimatefightback